Welcome to our Ashtanga Yoga Studio on Ingolstädter Straße in Frankfurt's beautiful Nordend, adjacent to Ostend. Conveniently located and quietly located, the rooms of a former kindergarten have been lovingly converted. We continue to honour the great energy of the children in the form of two painted stones; these serve us as doorstops.
The yoga studio is flooded with light and welcomes you with a warm-hearted energy. The rooms invite you not only to our Ashtanga yoga classes, but also to a simple 'meet-n-tea'. They are also suitable as co-working rooms and overnight accommodation is also available.
We are very grateful and satisfied with ASHTANGA YOGA RAUM FRANKFURT to have arrived in our favorite environment in wonderful rooms. We are happy to welcome you here.
》We also like to rent out our rooms or our Shala for workshops, one-off activities or for regular lessons. We charge 35€ gross per hour of use of our rooms. If you are interested, simply contact us at yoga@ayrf.de or call me directly: 0178-5454132.
》If you play with the idea of building something from scratch, if you plan weekly lessons, then we will certainly find a financial interim solution; in other words, a kind of step-by-step plan. Here, too, I live the principle of solidarity. Isn't it always a give and a take?
》We are also happy to rent to physiotherapists, masseurs, etc. (a massage table is located in the studio and can be shared). Here we charge 20€ gross per hour of use of our rooms.
》The use of the showers is not included in the price. In this case, a cost contribution of €1.50 per shower will be charged.
CHRIS
OWNER & YOGA TEACHER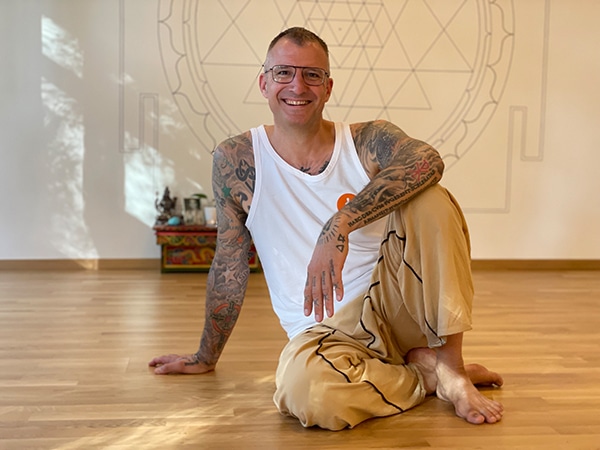 Before I came into contact with Ashtanga Yoga, my life was focused on sports and physical challenges. I worked as an aerobics and fitness trainer in various gyms in Frankfurt and had to be persuaded to my first yoga class. A turning point that finally brought me to where I am today: I have been practicing yoga since 2003 and teaching Ashtanga Yoga since 2005 in Frankfurt and form the head of the team.
In 2021, during the Covid-19 pandemic, I found my current rooms. After an intensive renovation in February and March 2021, I celebrated the opening of my new studio on April 6, 2021. Since then I am overjoyed and satisfied with ASHTANGA YOGA RAUM FRANKFURT to have finally arrived, to have finally found a great basis for my yoga lessons. I am happy to welcome you in my studio.
I took the chance to practice with different yoga teachers, but if someone asks me where I learned Ashtanga, the correct answer is: On the mat. Regular practice with yourself will allow you to dive deeper into yoga and learn more about this path and about yourself than you can ever learn through out any workshop or teacher training.
In my studio, I and my team teach the students the essence of the Ashtanga yoga system. Fundamental to this is the fusion of the asanas (postures), bandhas (energy closures) and drishtis (gaze focusing), also called tristana. I also give an insight into the other seven paths of Ashtanga Yoga. If you are interested in a trial class, please feel free to contact me.
Looking back over the last few years, I have realized that not only the students, but also me as a teacher, are undergoing constant change along the path of Ashtanga Yoga. Over the years, both my view of my own role as a yoga teacher and my way of teaching changed. At the beginning I felt like a strict traditional Ashtanga Vinyasa yoga teacher and today I would rather describe myself as a companion, initiator and supporter on the individual paths of Ashtanga Yoga. I keep tradition in mind, but the focus of my courses is on individuality.
A guru-centered system can have its positive sides if the so-called guru lives up to his role: he should lead his disciples from the dark (Gu) to the light (Ru), from ignorance to knowledge, and from ignorance to knowledge (of the self). But with his status, he should not create space for any kind of abuse or dependencies. As a human being, as a student and as a teacher, I have always questioned such guru-centric systems. The center of Ashtanga Yoga should not lie in a person or institution, but in everyone, regardless of space and time.
Om namah shivaya!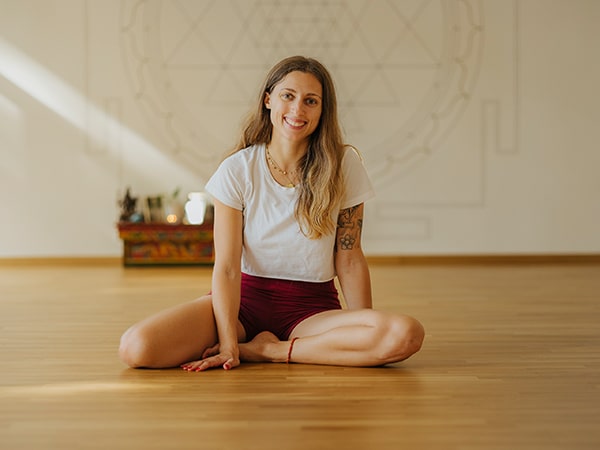 I first came into contact with Ashtanga Vinyasa Yoga at the beginning of 2015. My motivation was initially purely physical: I was looking for a new sporting challenge after I had to give up other sports due to my back problems. Accordingly, I put on the newly found yoga practice also the hope of a health improvement of my physical complaints.
For the first half of the year, I practiced YouTube videos in my own home with a Hatha Yoga book and finally with a colorful collection of Ashtanga Yoga-inspired YouTube videos. The pictures of dislocating yogis impressed me a lot and were one of the decisive factors in keeping me on the ball. Luckily!
That Ashtanga Yoga can be more than the physical exhaustion, I only realized over my first lessons in the traditional Mysore style at ASHTANGA YOGA RAUM FRANKFURT and with Chris. In retrospect, I have to say that it was only here that the first real point of contact with Ashtanga Yoga took place: The concise yet calm breathing in the classroom, the focused atmosphere, the common devotion of the students to this yoga practice fascinated me extraordinarily.
Actually, I had planned to visit a studio only sporadically and otherwise continue to practice for myself. But it also turned out differently for me than planned: I practiced as much as possible with my yoga teacher in the Shala in a motivating group and only rarely at home.
Today Ashtanga Yoga and ASHTANGA YOGA IS SPACE FRANKFURT Part of my daily routine, it shapes my lifestyle, is my conviction and passion. At the beginning of 2018 I started my training with Chris as an assistant teacher and since the beginning of 2019 I have the opportunity to pass on my experience to the students in my own Mysore lessons. Since 2020 I am a proud yoga teacher in the team of AYRF.
For the opportunity to get to know Ashtanga Yoga and dive deeper, I am grateful on so many different levels. This practice has caught me both physically and mentally and made me recognize my life from a new perspective. I am determined and i am delighted from the bottom of my heart not only to continue along this path in the years to come, but also to pass it on. I am looking forward to meeting you in the studio in The Ingolstädter Straße in the beautiful Nordend (on the border to the Ostend)!
Beate has written a wonderful blog post on Greenyogashop.com, please read it. A great view of Ashtanga Yoga: https://www.greenyogashop.com/blog/ashtanga-vinyasa-yoga
Atha yoga anusasanam!
BIANCA
ASSISTANT YOGA TEACHER
"Would you like to join me for yoga later? I'm sure you'll like the course!" my friend asked me, knowing full well that I had only practiced endurance and weight training so far and had no contact with yoga and meditation at all. And yet I was curious and so at the beginning of 2017 I had my very first yoga experience at an Ashtanga Yoga course at the University of Giessen. A short time later, back in Frankfurt, it was clear to me: I want to do this regularly! And so, in July 2017, I made an appointment for my first trial lesson with Chris at ASHTANGA YOGA RAUM FRANKFURT. This should be the beginning of my yoga journey.
At the time, I just wanted to be more flexible. But then the fun turned my whole life upside down and inspired and enriched it in many ways. I remember how insecure I was in the studio at the beginning and thought I had to prove something to someone. Until I realized that the teachers are really there to help me, to support me, but also to challenge and encourage me and that I can and may be completely with myself.
From the outside, you only see the physical. Invisible, however, is the breath that carries you through the practice, the focus, the overcoming that it may have cost me to go on the mat at all today, the feeling during it and the after. I love the energy that arises during the Mysore practice in the Shala together with all the other yogis and yoginis, which immediately captivated me at that time and from which you can take so much for yourself on different levels.
Yoga can be the entry into a bottomless pot from which I can continue to learn. And yet there is much more: being with me, being with me, discipline, acceptance … Some of it fascinated me right from the start and made me think, others I only really understood months or years later through my regular practice, various retreats and workshops. I am all the more grateful to be part of the ASHTANGA YOGA RAUM FRANKFURT team as an assistant and to learn from Chris and Beate.
Lokāḥ Samastāḥ Sukhino Bhavantu!